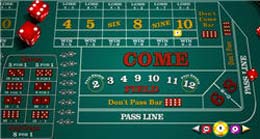 Rules of Free Craps Game
Craps is a game of chance and is played on a large sunken table with a pair of dice that is thrown by the Shooter.
The objective is to bet whether the Shooter will roll a winning combination.
Playing Craps
A game of Craps can consist of two distinct phases, the Come-Out phase and the Point phase.
In the Come-Out phase, the objective is to roll a 7 or an 11, while betting on the Pass Line. If you roll 4, 5, 6, 8, 9 or 10 instead, a Point is established.
In the Point phase of the game, the objective is to roll the same number as the Point, before you roll a 7.
In both phases of the game, you can place various side bets.
To play a game of Craps:
Click the Chip Selector arrow buttons to select the chip size you want to bet with.
Click the bet position on the table to place your Pass Line bet. A chip is placed on the bet position.
To increase your bet,click the bet position selected again. To reduce or remove a bet, hold down the shift key on your keyboard. Click the bet you want to reduce or remove.
Click the Roll button. The dice are rolled on to the table.
Depending on the number rolled, you either:

Win on the Come-out Roll: You are paid according to the Payout Schedule.
Establish a Point:Click Roll again, to try and make the Point. If you match the Point, the win amount is displayed in the Win box. If you roll a 7, you lose and the game is over.

You can start the Come-Out phase again.
Click the 'Help' button on the game for more information